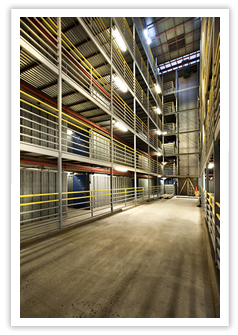 Located in the New Orleans French Quarter/Central Business District, Pigeonhole Mini-Storage offers a unique open architecture: a fully enclosed and protected environment to keep your belongings not only safe, high and dry, but fresh. Your protection from the elements includes a structure of reinforced concrete and steel, a fortress that was not even affected by storms such as Katrina that literally ripped the outer walls off of other storage facilities. The design incorporates natural light and ventilation with minimal energy consumption; a true 'Green' storage facility. We pride ourselves on being a small entrepreneurial company that places a special emphasis on a friendly environment while delivering the best value to our customers.
Please feel free to click your way through our website or call our friendly staff. We are ready to assist you in any way we can.
When we say Pigeonhole Mini Storage is secure, we mean it. Our Metairie Storage facility survived Hurricane Katrina, a storm that ripped the outer walls off of most of our competitors' warehouses. The key is our reinforced concrete and steel building, architecturally designed for the utmost stability. The building has other charms, as well: our Metairie Storage Units are not only safe from the elements, but beautifully ventilated.
If you've tried other Metairie Storage companies, you've probably found that your Storage Units can feel musty and stale after only a short time. That won't happen at Pigeonhole Mini Storage. Our unique design keeps the space fresh. It's part of our commitment to providing a clean, safe environment for Storage in Metairie.
GREEN Metairie Storage
It's a green environment, as well. Our Metairie Storage facility uses natural light and ventilation as efficiently as possible, bringing our energy consumption down to a minimum. You'll find our Metairie Storage Units unlike any others you've seen. The building provides a fully enclosed, striking design that feels entirely different than the usual cookie cutter warehouses.
Pigeonhole Mini Storage is a small company, not a mega-giant in the Metairie Storage industry. We take tremendous pride in offering the very best Metairie Storage Units, and the best customer service to go with them. With over 500 units in a wide array of sizes, we've got something that will work for your residential or commercial Storage needs. It's just about guaranteed.
THE BEST Metairie Storage Units
All you need to do is visit our Metairie Storage facility, and you'll see right away why we're the best. With our outstanding environmentally friendly design, state of the art security, and large selection of Storage Units, we've got so much to offer. In addition to 24/7 video surveillance, our facilities are also wired for sound. This audio surveillance can be very important should you need help with anything.
If you're looking for an environmentally friendly, architecturally sound Metairie Storage facility, there's only one choice. You'll be surprised by our competitive pricing. Come on down to see our beautiful Metairie Storage Units. Pigeonhole Mini Storage takes residential and commercial Storage to a whole new level.